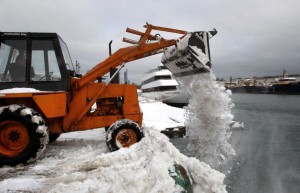 Hey, guess what? It's the first day of Spring, and it's snowing!
No surprise, it's been snowing forever. It started on November 13, when a lake-effect storm surprised western New York with over four feet of snow; the small town of Bennington got 88 inches of the white stuff. Nicknamed winter storm "Knife" for the way it cut unexpectedly through the area, the storm was later classified as a "polar plunge." (Stephen Colbert mocked it as sounding like a rocking new flavor of Capri Sun fruit drink.)
In December, winter storm Damon slammed the Northeast with rain, ice, and wind. And then it hung around for days, dumping mountains of snow from New York to Boston. But most ominously, Damon (or should we call it Damien? Or Demon?) blew so hard that it knocked out the voice of God. In Oakland, Maine, a 200-foot tower belonging to radio station WMDR, which had been installed a year earlier, came crashing down. The station's broadcast engineer found the tower collapsed in a heap atop Streaked Mountain, with no hope of repair. Which means that, at least until this winter finally ends, "God's Country 88.9" is off the air.
In January, winter storm Juno created snow emergencies across the Northeast, disrupted rail service and caused thousands of flight cancellations. But the most noteworthy thing about it was the challenge of removing the snow afterwards. In Boston, the city took the extraordinary step of dumping it into Boston Harbor. Which made all the environmentalists go nuts, right? Actually, no. Speaking on the Rachel Maddow show, the head of Save the Harbor Save the Bay conceded, ""Certainly snow is filthy. Urban snow is dirty, and it's not our favorite resort, but at the end of the day, public safety first."
In February, the weather made a mess of the spring college sports schedule. On the 15th, Cornell's men's lacrosse team played its first game of the season in the Carrier Dome against Syracuse, after having practiced all of two days on a full (plowed) field in Ithaca. Their first scheduled home game against Hobart was moved to an indoor site in Binghamton. And even when they traveled all the way to Dallas on February 28, their game against Albany took place in an ice storm. Following the game, Cornell's team flew home but Albany's flight was cancelled and the Great Danes endured an epic 31-hour bus ride back to the Empire State.
And so we come to March, we've broken all the records, and it's still coming down. According the meterologists, this has been the worst winter in history. And now, whether we needed it or not, the etymologists have made it official.
The Oxford English dictionary just released its periodic update for first quarter of 2015. It's a list of some 500 new words, phrases, usages and meanings. And on the list is a new phrase, but one you are very familiar with.
You've been seeing it all winter. It's piled up in your driveway. And it may be falling outside right now.
"White stuff."