The game of football always followed some basic tenets. Offense is for scoring points. Defense is for stopping points. And when it's fourth down, you kick the ball to the other team.
But then Frank Beamer came along. He grew up on a farm in a place called Fancy Gap, and went to a high school called Hillsville. And he was a competitor, earning 11 varsity letters in football, basketball and baseball, and getting accepted into Virginia Tech, where he was the starting cornerback for three years. Following graduation in 1969, he built a modest coaching resume at Maryland, the Citadel and Murray State. And then, in 1986, he landed the big job: head coach at his alma mater. It was a decision so unpopular among Tech fans that the athletic director had to state, "he's not a big name, but it's a sound decision, and I'm standing by it."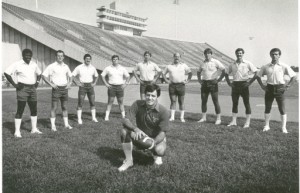 Beamer inherited a mess. This engineering school in the Virginia mountains had been to only 6 bowl games in 95 years, had only 1 ten-victory season, and had just gotten slapped by the NCAA for recruiting violations. But Beamer had a novel idea: what if you can score points on ANY play, no matter who has the ball and irrespective of the game situation? Beamer appointed himself coach of special teams, assigned some of his best players to that unit, and then drilled the entire team relentlessly on the fine art of creating turnovers, faking and blocking punts, bamboozling the opponent…generating opportunities in every way imaginable.
For the first six years, it didn't work; the team went 24-40 amid grumblings of disapproval in Blacksburg. But in 1993, the carefully coached chaos of Virginia Tech football finally exploded. The team went 9-3 and made it to the Independence Bowl. There, with the game fairly even and the first half almost over, the Hokies caused a fumble and returned it 20 yards for one touchdown, and then promptly blocked a field goal and returned it 80 yards for a second. 14 points in 23 seconds. Bang! Game over.
And that's the moment when the world was rudely introduced to a phenomenon now known as Beamer Ball. By creating chances and capitalizing across all facets of play, the Hokies would score points at any moment, and turn games in an instant. And it proved devastating. During Frank Beamer's tenure, the team has blocked 136 kicks and intercepted 335 passes, and returned many of them for touchdowns. As a result, they have won 10 or more games in a season 13 times, have won 7 conference championships and played for 1 national championship. Since that bowl game in 1993, the Hokies have gone to 22 consecutive bowl games, the longest active streak in the NCAA (oh no, it's not Florida State, as the NCAA vacated their 2006 Emerald Bowl appearance).
Beamer has succeeded by valuing every player and treating them like family. An astounding 25 sets of brothers have played for his program. At the same time, Beamer's strict code of conduct is legendary. Players who misbehave on bowl game trips get pulled from the lineup and receive a long, slow ride back to Blacksburg aboard a Greyhound bus. This combination of dedication, development and discipline has resulted in 93 of his players getting drafted into the NFL. More importantly, Beamer's teams have won 278 times, making him first among active D1 coaches, and sixth all time, ahead of names like Holtz, Osborne and Schembechler.
But all things must pass. On November 1, with his team sitting on the bowl-eligibility bubble at 4-5, Beamer announced this would be his final season. His Hokies responded with a hard-fought, narrow win at Georgia Tech last weekend, keeping their post-season hopes alive.
And so we come to the final home game of this classy coach's career. This Saturday in Blacksburg, Tech hosts UNC, who are ranked 14th in the country with a daunting 9-1 record. The Hokies defense is solid, but their offense is sputtering. Which means that if Frank Beamer's Virginia Tech Hokies hope to get him to a record 23rd consecutive bowl game, they have to find some way, any way, to win. They might need something special, something, well, unexpected.
So here we go.
Cue up "Enter Sandman." Touch the Hokie Stone. Get the Gobbler squabbling. Do the Hokey Pokey.
Bring on Beamer Ball.