There are no words to describe it. At least, not in the English language.
But here's some context. A generation ago, the tiny country of Iceland – population 330,000 – made a decision to build numerous indoor soccer facilities so that their kids could train through the long Arctic winter. This led to the development of several world-class players, and a national team with enough talent to compete in European competition. In 2014 and 2015, Iceland compiled an international record of 6-2-2, including twice defeating the mighty Dutch team, and qualified to compete in this summer's Euro 2016 tournament.
There, on June 14, in the first game of group play, Iceland's defense stymied Portugal so completely that the great Portuguese star Cristiano Ronaldo bitterly accused the Icelanders of having a "small mentality." But the defensive tactics worked and Iceland ground out a 1-1 draw. Then, on June 18, Iceland earned a second 1-1 draw, this time against Hungary. And then, on June 22, in the final game of group competition, Iceland and Austria had played for 90 minutes, and again the score was 1-1. Which meant that, having earned three draws, Iceland would place third in the group – behind Portugal – and would qualify for the knock-out rounds.
But…then…there were still a few minutes of extra-time left…and if Iceland could score once more and defeat Austria 2-1…they would earn their first-ever international tournament victory…and leapfrog mighty Portugal into second place…and they had the ball in their own end…but had a sudden chance to break forward…and three players decided to sprint the length of the field…
And then…the world found out what it sounds like when an Icelandic soccer commentator gives himself up to complete and total joy:
http://www.cbssports.com/soccer/news/look-listen-iceland-announcer-loses-his-freaking-mind-after-winning-goal-at-euro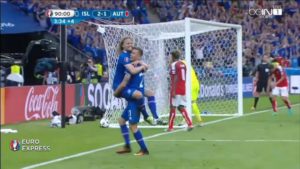 Next Monday, Iceland will meet England in the round of 16. Hold your ears.