This is an example of Presidential overreach.
Teddy Roosevelt used to love to say, "Bully," and he surely was one. As a child he was sickly, so he spent his time working out and toughening up. When he was 26, he suffered the most devastating Valentine's Day imaginable: on that single day, his mother Martha died of typhoid fever AND his young wife Alice died of kidney failure, leaving Roosevelt with a 2-day-old daughter. So Roosevelt headed to the Dakota Territory, invested in beef cattle (and failed), got into bar fights, and famously chased and caught a pair of thieves. He came back east, remarried, and had five more children. He fought his way up through the Republican Party and was notorious for bare-knuckle tactics and for gnashing his teeth while giving speeches. He became Assistant Secretary of the Navy, but resigned to set up his own military unit – The Rough Riders – and fought in the Spanish-American War. His victory at San Juan Hill helped win him the Governorship of New York, and two years later, the Vice Presidency of the United States. And then, in 1901, he became President when McKinley was assassinated; Roosevelt found out while he was atop Mt. Marcy in New York, and had to hike out of the wilderness and jump an overnight train to Buffalo to be sworn in.
When he became President, he was determined to fight against powerful forces that were gobbling up western lands for farming, lumber, mining and water rights. Roosevelt pushed Congress to create five new National Parks (Crater Lake, Wind Cave, Sully's Hill, Mesa Verde and Platt (now part of Chickasaw Recreation Area)), and added them to the four already in existence (Yosemite, Sequoia, Yellowstone, Rainer).
But the pace was too slow for Roosevelt, and the bully wanted to do more. On June 8, 1906, Roosevelt signed into law a curious thing called the Antiquities Act. Technically, the Act was designed to protect Native American heritage sites, and it gave the President authority, by mere proclamation, to create national monuments from public lands to protect "significant natural, cultural, or scientific features."  In reality, it gave Roosevelt a very big stick, and he started swinging it. In the first six months of the Act, Roosevelt established four national monuments (Devil's Tower, El Morro, Montezuma Castle and Petrified Forest.). He also interpreted the Act in expansive terms, and used it to protect most of the Grand Canyon in 1908. By the end of his Presidency, Roosevelt had used the Act to create eighteen cultural and natural areas, including Muir Woods, Natural Bridges, and Mount Olympus.
Roosevelt had, in effect, unilaterally created the basis for America's park system. After he left office, the pace of park creation would slow (Glacier, 1910; Rocky Mountain, 1915). But the pattern had been set, and it all came to fruition on August 25, 1916, when Woodrow Wilson signed legislation creating the National Park Service. Over the next several years, the system would explode with the addition of over a dozen new parks.
Yesterday the National Park Service celebrated its Centennial. The system now consists of 59 Parks and over 400 total Units including seashores, recreation areas and battlefields. The largest Unit spans three climate zones; the smallest contains a mere .02 acres. The system includes the highest and lowest points in North America. It hosts over 300MM visits every year. And it protects over 84MM glorious acres of pristine natural beauty.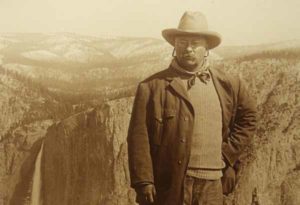 And, in the end, we owe it all to the tough-guy President who way overstepped his authority.
Bully!