Things have gotten really bad in Trenton NJ.  With taxes skyrocketing and the government ignoring the people's demands, citizens have finally taken up arms. One group is amassed on the Pennington Road, threatening the town. Another is moving up State Street into the city center. The bridge over Assunpink Creek has been blocked with vehicles, choking the southern route out of town. In response, the government is sending in armed forces to break up the protests and clear the rebellion.
But here's the good news: all of this is entirely expected, it happens every year, and YOU can join in the fun.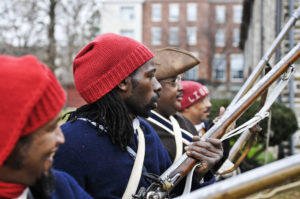 Each holiday season the Battles of Trenton come to life on the streets of New Jersey's capital. Originally occurring on December 26, 1776, and January 2, 1777, the battles gave George Washington two much-needed victories over the British, and proved to be the "Turning Point of the American Revolution." Today, the drama has been conveniently collapsed into a one-day re-enactment extravaganza, on Saturday, December 31st.  At 11 AM, Washington and his soldiers will knock the sauerkraut out of Colonel Johann Rall and his band of nasty Hessian mercenaries in the First Battle of Trenton. Then, after a light lunch, at 3PM, in the Second Battle of Trenton, George and the boys will thumb their nose at General Charles Cornwallis as they defend the Assunpink Bridge and scurry safely out of town. (Who knows where they might head next, Princeton perhaps?).
The annual reenactments are part of a full schedule of activities called Patriots Week. Throughout the holiday period, you can tour historic and cultural sites like the Trent House, State House and New Jersey State Museum. Your kids can enjoy a larger-than-life puppet recreation of the Battles. There's a Colonial Ball where you can meet, mingle and make merry with dozens of folks in period dress (and maybe in historic character). And it's all coordinated and centered around the Old Barracks, built in 1758 during the French and Indian War, and the oldest military installation of its kind in North America. It's open for tours all week, and you're sure to run into lots of interesting folks in full re-enactment mode. (Hint: while touring the Barracks, ask them to show you the Pine Tree Flag.)
Spending your holidays on the streets of Trenton? It's a revolutionary idea…
Start here:  http://www.barracks.org