Here are some facts to consider.
***
The United States is comprised almost entirely of people who came from, or whose ancestors came from, somewhere else. Our country is very diverse. Most of us are "mutts" whose bloodline contains a mix of racial origins. But our single largest racial root is German: approximately 20% of all Americans are of German origin, in whole or in part. (Disclaimer: my mother's maiden name is Lautzenheiser; my wife's maiden name is Low (Lau), making my two sons double-lions.)
But fear is a strong emotion. In July of 1938, with Hitler in control of the Fatherland, the United States had no interest in assisting refugees fleeing fascism. In a Fortune magazine poll asking, "What is your attitude towards allowing German, Austrian and other political refugees to come into the United States?" 67% of respondents chose, "With conditions as they are, we should try to keep them out. " In other words, two thirds of citizens of an inherently German country wanted to slam the door on their brethren trying to flee from a nightmare.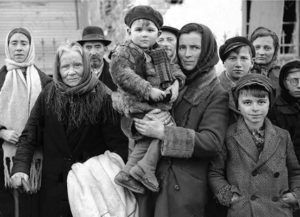 After the outbreak of war in Europe in 1939 and the bombing of Pearl Harbor, President Roosevelt suspended naturalization for German, Italian and Japanese immigrants, and forced those aliens already in the United States to register and have their mobility restricted. Tens of thousands were placed in internment camps.
Nevertheless, during the war years over a quarter million Germans managed to gain entry into the United States, most of them Jews fleeing the Holocaust, which the United States gained knowledge of as early as 1942.
One refugee was a prominent scientist who was accused of treason by the Third Reich, and fled Germany in 1933. He went on to become a renowned theoretical physicist, a fair violinist and a professor at Princeton University. His name was Albert Einstein.
A second refugee was a young soccer player from Bavaria named Heinz whose family fled to New York City. After serving in the army, he got his degree from Harvard (summa cum laude, Phi Beta Kappa) and rose to become National Security Advisor to Nixon and eventually Secretary of State. His Americanized name in Henry Alfred Kissinger.
A third refugee was born Marie Jana Korbelova in Austria-Hungary. While at finishing school in Switzerland, she learned French and changed her first name. She survived the war years in London, moved with her family to Prague, and then fled Czechoslovakia in 1948. She studied at Johns Hopkins, taught at Georgetown, rose in the Democratic Party to become Ambassador to the United Nations and, in 1997, became the first female Secretary of State. She is Madeleine Jana Korbel Albright.
***
Just a little historical context to be considered by the average American citizen, and in particular by our President, who is the son of a Scottish immigrant and the grandson of immigrant Germans.