This is about how some things get repurposed, and some do not.
On July 9th, 1776, the Declaration of Independence was read aloud to the citizens of New York City. Almost immediately, the New Yorkers responded by destroying everything British they could find. Paintings, coats of arms…and statues. A large crowd marched down Broadway to the Bowling Green and pulled down a larger-than-life statue of King George III. They disfigured the King's head and stuck it on a pike outside Moore's Tavern. The rest of the statue was shipped to Norwalk CT, where it was melted down and made into tens of thousands of musket balls that were used in various battles of the American Revolution. (Chemical analysis of some of these balls, found later on battle sites such as Monmouth, reveal small amounts of gold mixed in with the normal base of lead.) These repurposed musket balls, which helped to win the war, came to be known as "Melted Majesty."
A second object is a British redcoat uniform that was acquired by James Davenport, a member of the Continental Army, who allegedly fought at the battle of Trenton. After the war, some of the fabric was reworked into a pair of baby booties, which were passed down through the generations. These revolutionary booties kept young Davenports warm as they sat on their elders' laps, listening to stories of river crossings, evil Hessians, brave Americans and reversals of fortune.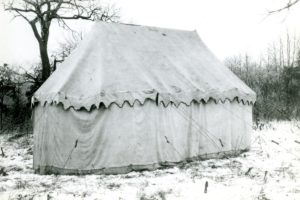 And then there is this: one of four "marquee tents" that were used by George Washington during the Revolution. After the war it was carefully packed up and stored at Mt. Vernon by the Custis family. Eventually it became the property of one of their in-laws, Robert E. Lee. When Lee's mansion at Arlington was captured during the Civil War, the tent was sent to Washington. It was returned to the Lee family in 1901, and then it was acquired by the Valley Forge Historical Society, who stored it carefully for many years.
And now, all these objects have been given a new home: the Museum of the American Revolution in Philadelphia. In addition to rare objects such as the musket balls and booties, there will be multiple galleries and interactive displays, multi-media presentations, and even photographs of some of the war's participants (taken later in life, of course)!
And at the museum's heart is a climate-controlled glass case that holds the tent that was Washington's home from 1778 to 1781. There is a short film about the tent's history and its very careful reconstruction. And at the film's end, the tent is shown first in silhouette, and then is fully revealed against a swift sunrise. It's a fitting tribute, and a dramatic first dawn for the new Republic.
The Museum of the American Revolution opens April 19. You can learn more at https://www.amrevmuseum.org/