Here are a few things all Americans should know about Puerto Rico.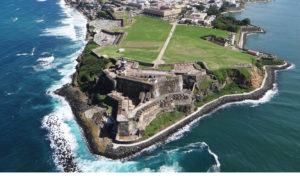 First, Puerto Ricans were granted citizenship for cynical military reasons. The United States acquired the island from Spain – along with Cuba, the Philippines, and Guam – in 1898, at the end of the Spanish-American War. But it wasn't until 1917 that the United States, needing soldiers for the Great War, granted citizenship to the island. Whereupon 20,000 soldiers were immediately drafted and sent to guard the Panama Canal (in part to keep them separated from white American soldiers).
Second, Puerto Rican soldiers have distinguished themselves in every conflict in which they have served. The first American shot of World War 1 was ordered and fired by a Puerto Rican garrison in San Juan harbor in 1915, two years before the United States officially entered the war. When the German supply ship Odenwald attempted to leave the harbor loaded with arms meant to resupply submarines waiting in the Caribbean, Lieutenant Teófilo Marxuach fired a warning shot across her bow. The Odenwald turned around, she and her supplies were confiscated, and the ship was rechristened the USS Newport.
In World War 2, 65,000 Puerto Rican men and women served, including Augustin Ramos Calero, who was awarded 22 medals, making him the second-most-decorated American soldier in that war.
Puerto Ricans have fought in every conflict from the World Wars to Iraq. And they have been members of our most respected fighting units, including the Harlem Hellfighters, the Tuskegee Airmen, the Green Berets and the Navy Seals.
And if you want some modern context, consider this: Puerto Rico has a population of 3.4MM, making it essentially our 30th largest state, right behind Connecticut. And, since the Korean conflict, Puerto Rico has lost 1119 soldiers in combat, compared to Connecticut's 974.
However, Puerto Ricans have no governmental representation in Washington, and cannot vote in federal elections. Which may explain why, with this island having been turned into a war zone by two hurricanes, its people have had to wait more than a week for help to arrive. (Imagine the outcry if all of Connecticut was without power for a week.) As of this morning, there are almost 10,000 containers of supplies stuck in San Juan harbor, waiting for roads to be cleared and drivers assigned to deliver them where they are desperately needed.
Thankfully, the United States has come to its senses and finally stepped up to its responsibility. And, perhaps poetically, the situation has called for a military solution. Yesterday, Lieutenant General Jeffrey Buchanan was assigned to oversee relief efforts on the island; he arrived in San Juan this morning. The USNS hospital ship Comfort has been deployed to provide badly needed medical support. The Air Force is ramping up daily relief missions. And the White House has authorized a 10-day waiver of the Jones Act, which will allow supplies to be shipped in from non-American sources.
It's all great, even if it's very late.
After all, the people of Puerto Rico are Americans, and they have been giving the last full measure of devotion to their country since before they were even citizens.
Now it's up to the American military to repay that debt.