The Dixie devils of double deliciousness are at it again…
Down in Salisbury, North Carolina, since 1917 they have created a bubbly cherry concoction which is aptly named "Cheerwine."  It's a small regional soda brand that has never enjoyed the global popularity of a Coke or a Pepsi, but which has been beloved by southern families for generations. Along the way, it has had its share of brand extensions such as Cheerwine ice cream and sherbet, and Cheerwine cake.Meanwhile, from Winston-Salem comes a doughnut first developed way back in 1937. The company was originally set up to distribute products to grocery stores, but once passers-by got a whiff of the bakery, they literally started pounding on the door asking if they could buy direct from the oven. This led to the development of a chain of retail stores and a brand that became a legend: Krispy Kreme.
In 2010 – as we previously reported – both of these venerable brands were going through growth spurts. Cheerwine was rapidly expanding distribution beyond their southeast footprint, and Krispy Kreme was rolling out a national presence on the heels of one of the best initial public offerings that Wall Street had ever seen. And it was this mutual marketing ambition that yielded one of the great cross-branded culinary confectionary creations in history.
I refer, of course, to Krispie Kreme Doughnuts with Cheerwine Flavored Filling!
(Oh yeah, on our trip south that summer we bought a box and ate it from Rocky Mount all the way to Ocean Isle.)
***
So now seven years has passed. We come to the summer of 2017. We're making plans for our southern sojourn.
And if you've been reading this post carefully, you'll notice that this year marks – oh my – the 100th anniversary of Cheerwine…
Certainly a moment that gets the marketing department all in a tizzy…
And so here comes another batch of that neighborly southern marketing ambition, and a chance to reverse the favor, and the flavor…
Instead of putting the soda in the doughnut…would they…could they…possibly put the doughnut in the…Good Lord!
Ladies and gentlemen, for your summer sipping pleasure, here it comes…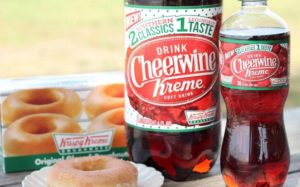 Presenting Krispy-Kreme-Doughnut-Flavored-Cheerwine!
Available now in grocery stores from Rocky Mount to Ocean Isle.
Start the car.