Here are some things you probably didn't know, but probably should.
The fifth largest religion in our world is Sikhism, which is observed by approximately 30 million souls. It is a monotheistic religion centered around the phrase "Ik Onkar" meaning One God. It developed in the Punjab region of India around the 15th century, and broke away from Hinduism in part due to its rejection of the unjust caste system. It was originally led by gurus until the death of the last one in human form, and today the faith centers around the Guru Granth Sahib, or book of teachings of the gurus. Sikh men wear one or more articles of faith called "The Five K's" which include Kesh (long hair), Kangha (a small wooden comb), Kara (an iron bangle worn on the prominent hand), Kachera (an undergarment) and Kirpan (a short dagger).
Sikhs are visually striking in that they very commonly wear turbans to cover their Kesh. (Most Hindus and Muslims do not.) This has made Sikh immigrants into the United States and other western countries targets of racial hatred, though Sikhism is a decidedly peaceful religion. In 2012, a Wisconsin man (a veteran of the Army with ties to a white supremacy group called the Hammerskins) opened fire on a Sikh congregation at a Sikh gurdwara temple in Oak Creek, killing five men (all wearing turbans) and one woman, before killing himself. A police officer at the scene, Lt. Brian Murphy, was shot 15 times but miraculously survived, and received significant financial support from the Sikh community.
In 1973, Gurbir Grewal was born in Jersey City, the son of first-generation Indian immigrants. He went to West Essex High School, Georgetown University and William & Mary Law School. He joined the U.S. Attorney's Office in New Jersey as chief of their Economic Crimes Unit. He has most recently led the Bergen County Prosecutor's office, focusing on fighting opioids and white collar crime, upholding constitutional issues and strengthening ties between police and communities.
Gurbir Grewal is a Sikh. He wears a turban and a full beard. In addition to English he speaks fluent Punjabi and Hindi. He is married with three daughters.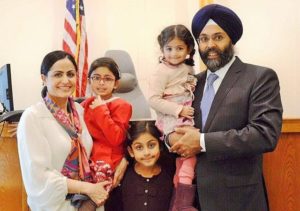 This week, he was confirmed as Attorney General of the State of New Jersey. He was approved by the Senate with a vote of 29-0. He is now the top law enforcement official of the most diverse state in the Union.
In his acceptance speech he said to his children, "Girls, I continue in this public service journey for really one reason, and that's to ensure that each of you grow up in a fair and just society."
History will show that Gurbir Grewal is the first Sikh-American Attorney General in U.S. history.