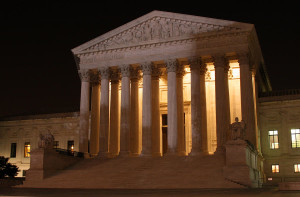 Washington, DC, sometime after midnight…a knock on the door.
ROBERTS: What do you want?
The sound of giggling.
RBG: Oh, C'mon Johnny, it's us. Let us in. We've got champagne!
ROBERTS: Oh, no, you don't! I've got an opinion to write. But I guess you three have gotta come in and taunt me.
KAGAN (entering with two others): You bet we do. But chin up, John, it's not so bad this time. With Anthony and Stephen on our side, you've got plenty of cover. Besides, you never stood a chance.
ROBERTS: Yeah, yeah, I know, and as much as I want to keep our 5-4 streak going, there's no way I'm gonna be on the losing end of this deal…um, you okay, Sonia?
SOTOMAYOR: Oh, I'm good. *HIC* Really good.
ALL: HAHAHA
ROBERTS: So anyway, here's what I'm working on, what do you think of this: "Congress passed the Affordable Care Act to improve health insurance markets, not to destroy them. If at all possible, we must interpret the Act in a way that is consistent with the former, and avoids the latter."
RBG: Hey that's pretty good! Who's working on the dissent? Clarence?
ROBERTS: Clarence who?
ALL: HAHAHA…
ROBERTS: No, no, I went around the offices earlier and I found a draft in Tony's trash. Check this out: he's calling the decision "interpretive jiggery pokery."
SOTOMAYOR: I'll drink to that!
RBG: Sonia!
KAGAN: That'll score a fist bump from O and FLOTUS…
SOTOMAYOR: Hear, hear! *HIC*
ROBERTS: Alright, alright, that's enough, ladies. Take your bottle and get outta here. I got lots of work to do to get this thing ready for tomorrow.
And Ruth, by the way, I don't mind the whole Notorious thing, but do you have to call me Johnny in front of my whole team?
RBG: Not the whole team, boss. I never call you that in front of Sam, or Tony, or Clarence.
ROBERTS: Who's Clarence?
ALL: HAHAHAHAHA…