As Democrats head to Atlanta this weekend to elect the next leader of the Democratic National Committee, the leading candidate for the job is a Congressman named Keith Ellison. Which I'm sure has led many of you to think, "Where have I heard that name before?" To which I respond, (smugly), that Mr. Ellison was the subject of the very first Quick Sliver, published on January 5, 2007!
Here it is.
***
Thomas Jefferson bought a book. It was a rare thing and a valuable part of Jefferson's personal collection. When the Library of Congress was burned by the British in 1812, Jefferson sold his collection to the Federal government to help refurbish the library. There the book sat, largely ignored, for almost 200 years.
This past fall, something interesting happened; Keith Ellison was elected to Congress. Amazingly, he is the first black elected from Minnesota. Even more amazing, he is the first Muslim to be elected from any U.S. state. And as the hour of his swearing in approached, Ellison asked if he could borrow Jefferson's book for the ceremony. The book, you see, is one of the earliest known European copies of the Koran.
A firestorm erupted on Capitol Hill. Virgil Goode, Republican Congressman from Jefferson's own district in Virginia, said the event threatened "the values and beliefs traditional to the United States of America… there will likely be many more Muslims elected to office and demanding the use of the Koran." Author John Nichols, writing in THE NATION, responded, "On Thursday, it will not be Virgil Goode who pays tribute to Jefferson. It will be Keith Ellison." Critics claim Ellison is a jihadist, a terrorist sympathizer, an acolyte of Louis Farakhan. Others point to the separation of church and state, and the fact that numerous presidents have taken their oath without a bible. The political blogs started smoking and wheezing with partisan hysteria.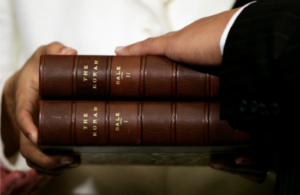 Yesterday, amidst the hubbub, the head of the Library of Congress's rare books department personally walked the book over to the Capitol. For the first time in U.S. history, an elected federal official placed his hand upon the Koran and swore his oath of office. There were so many people present that the ceremony was performed twice to let everyone see.
Once it was done, Mr. Jefferson's book was walked back to the Library of Congress.